Taillardat is a French company that is supremely at home with the business of making your living spaces look just superb. As the creators of top-end items of furniture that draw their design inspiration from the Golden Age of European furniture, Taillardat knows all about delivering excellence.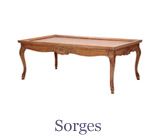 Every piece it creates is the product of skilled workmanship and trade secrets that have been passed down the ages. In order to re-create the authentic look and feel of period furniture, the firm's Orléans-based craftspeople draw on a whole range of timeless skills including cabinet making, French polishing, leather casing, gilding and upholstery.
These skills are put to good use in the production of a raft of different furniture items, from beds to sofas and low tables to armchairs. The chest of drawers is a must for any larger living room or bedroom, being both striking and very practical. Thankfully, Taillardat has a particularly impressive selection of louis XVIII chest of drawers.
The company also produces many different kinds of tables for varied uses and environments. A low lounge table of the sort pictured below will fit nicely even into smaller living rooms.